In 1985, whirlpool spa chairs were introduced to the beauty industry. This unique line of spa chairs upgraded the pedicure and manicure services in upscale salons in America. By the year 2000, there were more than one dozen manufacturers making their own designs of whirlpool spa chairs.
Due to competition for market share, the prices of the whirlpool spa chairs have decreased dramatically, which in turn, made them more affordable for salons. More and more salons have joined the trend and equipped their salons with whirlpool spa chairs.
Salon clients enjoyed the jetted whirlpool massage on their feet while receiving a pedicure. The salon owners have increased their income due to the up-charge in the whirlpool spa chair service. The whirlpool spa manufacturing business has skyrocketed.
As the decade advances, we predict a 38% - 42% increase in pedicure whirlpool services in 2006 and beyond. Spa experts expect overall national growth in spa visits to be in the double digits for the next five to ten years because of the large, mostly untapped market of men and teenagers.
Although the growth is good for salon owners, it also has a downside. Researchers found that thousands of people who don't know how they got hepatitis C, fungus and herpes had one thing in common--they had all been to a nail salon or spa.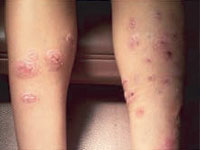 Infected Leg
The cause of these infections was traced to a series of contaminated whirlpool footbaths. It is speculated that there are probably other cases that have occurred around the country that have not been reported. The problem lies in the internal plumbing of the whirlpool spas because water is never completely drained from the system.
Ninety-eight percent of all the systems in salons are jetted systems. What you don't hear about are the salons that are being sued because of infections received from whirlpool jetted systems. One lawsuit from one client can close you down and cost you millions of dollars in damages.
Spa owners have never been given clear instructions or recommendations on how to clean whirlpool spas. Because of all the media attention on sanitation in spas, all the state boards of cosmetology have required disinfecting procedures be done.